SAP Test Automation
SAP Testing overview:
Many organizations implement SAP ERP (Enterprise Resource Planning) to manage their business operations and adapt according to new market challenges. SAP R/3 is an integrated ERP software that allows organizations to manage their business efficiently. Organizations can reduce the cost to run their operations by using SAP R/3 ERP packages. SAP R/3 also allows customers to interact with different databases to run different applications with the help of a user-friendly GUI. The SAP R/3 system is divided into different modules to cover the functionality of different business operations in an organization.
SAP Testing is about testing the functionality of these modules and to ensure that they perform as per the configuration.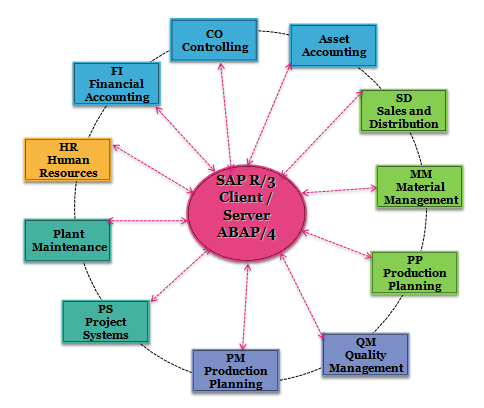 Importance of Testing:
Here is a list of key reasons why SAP testing is performed and why it is an important function in the growth of an organization:
System Validation: SAP Testing involves complete end-to-end testing and validation of all SAP modules in SAP ERP environment.
Quality and Revenue: SAP Testing is an output-based testing and not like conventional testing methods which are input-based. It ensures the quality of SAP system and also focuses on revenue and cost of the organization.
Cost and Predictability: SAP Testing involves reducing the SAP development costs and improve predictability.
Compliance Requirement: SAP Testing ensures that the SAP implementation is meeting the new compliance requirements in a specific organization and all the modules are working as per the expected configuration.
Integration: SAP testing is performed to test various reports, data flows and work flows, GUI forms, etc. It is used to check system integration between different modules.
Performance: It is also used to ensure if the system will be able to meet the Service Level agreements, time taken by system to perform specific actions, performance of the system, etc.
SAP Testing- Types
There are different testing methods that can be used to test the functionality of a software, system, or an application. The most common testing techniques are:
Unit Testing: It is a type of white-box testing that involves testing a single unit or group of units.
Integration Testing: In this testing, multiple systems are combined together to test the output of the integrated system.
Functional Testing: It checks the functionality of each module as per the desired result.
Usability Testing: It checks the ease of use of an application or a system. It checks how easy it would be for a new user to use an application or to understand the system.
Acceptance Testing: Acceptance testing is performed to test if a system meets the user requirement and whether to accept the application or system.
System Testing: Entire system is tested as per the requirement and specification.
Stress Testing: In this testing, the system is put into stress beyond its specification to check when it fails.
Performance Testing: This testing is performed to check if the system meets the performance requirement.
Regression Testing: It includes testing the full application or system for the modifications.
Beta Testing: The aim of beta testing is to cover unexpected errors. It falls under the class of black-box testing. It is performed by releasing the pre-version of the final product, called Beta.
Database Testing: Database testing is used to test the data in the database. It is performed using SQL statements.
ETL Testing: ETL testing is performed to ensure if data is correctly extracted, transformed, and loaded from a source system to a target system.
Challenges faced during testing SAP:
It is tailor made package so it becomes important to test all enhancements and
modifications
Each implementation is unique
Implementations are geographically dispersed
Interaction with different legacy systems and applications, it might not be standalone
application in a system
Huge business processes and areas which needs to be tested
Different technologies involved like Java, web pages, terminal emulators
Risk associated with testing delays affecting project schedule
Risk of releasing inadequately tested system to users
High Volume and variety of data needs to be tested
To conclude, Automation plays key role to make SAP implementation successful. Testing is always huge area during SAP implementation which either involve huge cost and if neglected huge risk. If we go ahead with automation with proper tool and framework, cost and risk is going to be reduced for each SAP implementation. It has significant benefits if properly planned, validated, and maintained. We, at Infobiz recommend you to get a Proof of Concept for your business done for free. After the POC, we can proceed with the SAP Test.
DIGITAL TRANSFORMATION WITH RPA7 Steps to Digital Transformation with RPAInfobiz has compiled a 7-step journey of all the necessary things you need for implementing Robotic Process Automation solutions in your organization. Keep reading and transform your...